Cutie's Kitty Rescue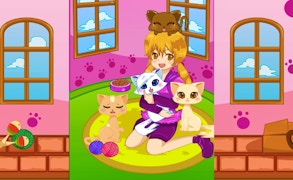 Cutie's Kitty Rescue
Unleash the animal lover in you with 'Cutie's Kitty Rescue', a captivating animal game tailor-made for all the cat lovers out there! Crafted brilliantly with kids in mind, this game offers a unique chance to experience the joy and responsibility of running a cat rescue shelter.
The heart of the game lies in taking care of adorable virtual felines that steal your heart away from the first glance. As 'Cutie', you'll be championing the cause of these cuddly creatures, treating their ailments, feeding them delightful treats, and keeping them entertained with playful activities- all essential aspects that truly bring this game into the forefront of games for girls.
The charm of Cutie's Kitty Rescue doesn't just stop at its endearing characters, but dives deeper into its intuitive controls and vibrant graphics. The visuals are vivid and colorful, perfectly capturing the enchanting world of these furry little companions. No detail is left unattended, including their distinctive purrs that guarantee to delight every player.
This delightful animal-themed game does not shy away from imparting valuable life lessons either. Responsibility and care become second nature as players navigate their way through the game's intriguing tasks. By running Cutie's shelter effectively, players learn to appreciate the challenges and joys associated with taking care of pets.
So why wait? Immerse yourself in this irresistible universe of cuddly cats and engaging activities today! Cutie's Kitty Rescue is not just a superb addition to your collection of games for girls, but an exciting experience that lets kids indulge in a magical adventure while teaching them values along the way. This game is every kid's dream come true - combining fun, learning, and an overwhelming dose of cuteness!
What are the best online games?