Cute Mommies Pregnant Sauna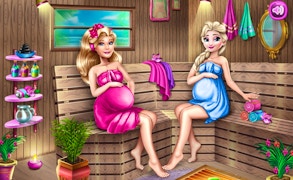 Cute Mommies Pregnant Sauna
Welcome to an enchanting world of motherhood with the delightful "Cute Mommies Pregnant Sauna", a top-tier example of the best Games for Girls and heartwarming Dress Up Games. Prepare to be immersed in an exhilarating spa experience, right from taking a reviving shower to ensuring the pregnant princesses feel relaxed and content in the most soothing sauna settings.
The character Ellie takes center stage as you assist her preparing for a memorable spa day with her best friend. The game exhibits an impressive range of choices that extend to picking the coal, selecting luxurious essential oils and creating the perfect steam room ambiance. This isn't merely a game; it's a tailor-made journey into tranquility.
Post-spa session, you're transported into a world of glitz and glamour that plays out in one of the best Dress Up Games. You get to finalize Ellie's outfit from a plethora of options. Whether it's fabulous maternity fashion or chic casuals, every choice is designed to make Ellie look nothing less than stunning.
"Cute Mommies Pregnant Sauna" captivates you with its unique blend of maternity themes, immersive spa simulation, and sophisticated dress-up components. It presents an insightful glimpse into maternal joy sprinkled with elements of fun and relaxation. Girls will find this game not only entertaining but also intuitively educational about self-care during pregnancy.
Featuring vivid graphical representation and eye-catching aesthetics coupled with easy-to-use controls, "Cute Mommies Pregnant Sauna" is a treat for all young girls out there looking for an engaging gaming experience that beautifully intertwines maternal themes with their love for dress-up games.
This splendid scenario sums up why "Cute Mommies Pregnant Sauna" ranks among beloved games targeted at girls, offering unforgettable hours filled with fun, relaxation, fashion and most importantly - a beautiful portrayal of motherhood.
What are the best online games?