Cute Jelly Rush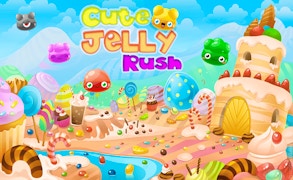 Cute Jelly Rush
Description
Dive into the world of Cute Jelly Rush, a delightful match-3 HTML5 game filled with vibrant colors and adorable jellies. Your task? Match these squishy jellies based on their shape and color. Pay attention to the details, as each jelly has its own unique features. Engage in countless levels of pure fun and brain challenging entertainment.
How to Play
To play the game, simply slide the jellies across the board until they align with others of the same type. Aim for a horizontal or vertical chain of at least 3 identical jellies. Each successful match will add points to your score, progressing you further into this colorful world! Make sure to plan your moves carefully!
Tips and Tricks
In Cute Jelly Rush, it's not always about speed! Sometimes, it's best to hold off making immediate matches. Instead, strategically manipulate the board to create larger combo opportunities. This approach can greatly maximize your points! Also, keep an eye out for special jellies that may appear - they often bring bonus scores!
Features
Vibrant Graphics: High-quality visuals packed with colorful animations.
Addictive Gameplay: Simple yet challenging, perfect for players of all ages.
Progressive Difficulty: The game becomes more complex as you advance.
No Time Limit: Play at your own pace, perfect for casual gaming sessions.
What are the best online games?
Tags