Curvy Punch 3D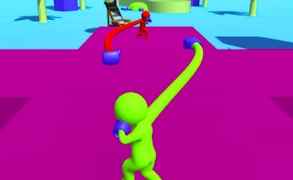 Curvy Punch 3D
Unleashing the full fury of your digits, you step into the ring with Curvy Punch 3D, a true titan amongst boxing games. From the first jab, this punchy title delivers a staggering blow to the monotony of your routine. It's not just another game in the crowded domain of stickman games; it's an immersive, thrilling, and absolutely electrifying gaming experience that keeps you on your toes.
The game deftly combines strategy and agility as you dodge enemy fists and navigate through an arena littered with intricate obstacles. It's a dance of destruction where one false step could be your downfall. The enemy fighters are aggressive and relentless, eager for every opportunity to land that brutal knockout punch. The tension is palpable in every match, making this one of those stickman games that you simply can't put down.
The heart-racing excitement is led by visuals that personify violence with a unique charm only stickman boxing games can master. Each punch feels weighty and satisfying as it connects with the opponent. The sense of direction and fluidity in movement is laudable and engaging, adding a level of realism to this otherwise whimsical world.
The challenges are numerous, but so are your opportunities for victory. Skillfully avoiding the enemy's punches while landing your own will test even seasoned gamers' abilities. It's not about just throwing punches; it's about when to throw them – a tactical tango intertwined seamlessly within this adrenaline-fueled fighting game.
Curvy Punch 3D, without a doubt, finds its place among acclaimed boxing games by delivering fast-paced action coupled with clever strategic elements – setting it apart from other stickman games flooding the market today. So get ready gamers! Lace up those gloves because Curvy Punch 3D is waiting for you in the ring!
What are the best online games?