Curve Ball 3D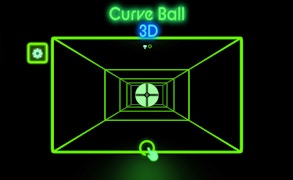 Curve Ball 3D
Immerse yourself in the electric world of arcade gaming, with a game that pushes your reflexes to their limit! Prepare for the exhilarating experience of Curve Ball 3D, an entrancing entrant in the realm of ball games that "serves" up a storm.
The game's premise is deceptively simple, yet thrillingly addictive. Your objective: defeat your opponent using nothing but your trusty racket and your ability to curve the ball. This intriguing blend of physics and strategy instantly catapults Curve Ball 3D to the upper echelons of ball games.
Engaging matches become spectacles of pure agility and strategic prowess as you aim to outsmart your opponent. The 3-dimensional environment provides a level of depth seldom seen in other ball games, leading to an engaging and immersive gaming experience.
The controls are fluid and responsive, making it easy to curve the shots precisely as intended. However, don't be fooled by this apparent simplicity! Mastering these controls requires fine-tuned motor skills and a quick-thinking mind; a challenging feat that sets Curve Ball 3D apart from other ball games.
Besides being an exceptional casual gaming experience, Curve Ball 3D also offers vast replayability. Each match is a distinct experience, requiring fresh strategies and skill-sets. Whether you're dipping into it for quick entertainment or serious competition, this game promises timeless appeal.
In conclusion, with its unique take on dynamic gameplay mechanics, captivating graphics, and ceaseless challenges, Curve Ball 3D is an absolute gem in the arena of arcade gaming. It certainly brings a new "spin" to what we perceive as typical ball games—so gear up for some serious curving action!
What are the best online games?
Tags