Cube Shift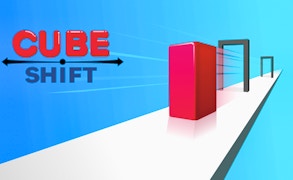 Cube Shift
Step into the geometrically vibrant world of Cube Shift, an addictive entry in the realm of Hyper Casual Games, which elevates the bar for Fun Games. This game takes the humble cube, a symbol of simplicity and consistency, and gifts it with fluid adaptability. No longer a static shape, our cube hero dynamically alters its form to overcome challenges and traverse through an obstacle-laden labyrinth.
Challenging yet simple, Cube Shift is a testament to the timeless appeal of Arcade games that engross players with its straightforward mechanics. This game doesn't just require quick reflexes but also tests your problem-solving skills. The objective? Change your cube's form based on the upcoming obstacle. While it sounds easy, each level progressively ramps up the difficulty, ensuring you're always on the edge of your seat.
The true beauty of Cube Shift lies in its intuitive design and immersive gameplay. Fluid animations blend seamlessly with subtly pulsating background music, creating a rhythmic dance between player input and game response. As the player manipulates their geometric avatar through an ever-changing path, they experience a gratifying sense of achievement.*/
In summary, Cube Shift is more than just a game - it's a lesson in adaptability encapsulated within a thrilling arcade experience. It provides endless hours of entertainment for players who enjoy brain-teasing challenges wrapped in hyper-casual attire.
If you're seeking a fresh spin in the Fun Games category that keeps you popping back for 'just one more go', then Cube Shift warrants your attention. Excellent for quick gaming sessions or long chilling nights, this title will make you see cubes in an entirely new light. Brace yourself for a wild ride through shifting shapes and abstract landscapes with Cube Shift – where every obstacle is not hinderance but an opportunity to morph anew.
What are the best online games?