Cricket World Cup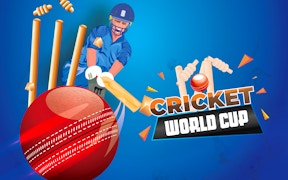 Cricket World Cup
As the fever pitch of the Cricket World Cup grips the globe, armchair enthusiasts now have the chance to live their cricketing fantasies through one of the most engrossing cricket games on the market. With a host of international teams at your disposal, Cricket World Cup is a game that offers an immersive experience and a trip around the world in pursuit of the coveted trophy.
The world is your stadium as you step up to bat for teams ranging from India to England, New Zealand to South Africa, and even underdogs like Afghanistan and Bangladesh. Whether you're looking to emulate the fiery passion of Australia's batsmen or replicate West Indies' unruly flair, this game has it all for cricket fanatics who want to rewrite history in their own image.
The gameplay is strikingly simple yet deeply rewarding; butterfingered gamers need not fear. By just tapping on your screen, you are swung into action. But don't be fooled by its simplicity: like all great ball games, Cricket World Cup demands sharp timing and nimble fingers as you strive to hit that elusive six.
What sets "Cricket World Cup" apart is how it marries ease of use with an unforeseen depth—a reward for those committed enough to master their batting skills. It encourages strategic thinking: when do you play safe? When do you take the risk and aim for that crowd-winning six?
In conclusion, Cricket World Cup transcends its tag as a mere member of cricket mobile games— it becomes a much-craved platform for cricket aficionados to partake in world-class cricket action. Grab a bat, tap and smash away—it's time to create some unforgettable sporting moments with "Cricket World Cup".
What are the best online games?
Tags