Cricket Live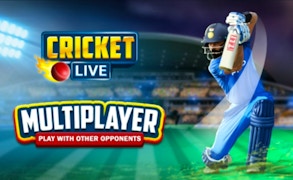 Cricket Live
Immerse yourself in the fast-paced excitement of Cricket Live, one of the leading ball games that perfectly encapsulates the thrill of a real-life cricket match. This masterstroke among cricket games takes you straight into the heart of high-stakes competition, offering an experience that's both riveting and wholly authentic.
A shining star in the realm of skill games, Cricket Live isn't just about tapping buttons mindlessly - it's a test of strategy, precision, and timing. Each player is given a single over to score as many runs as possible, transforming every second into a pulse-pounding race against your rivals. The pressure to outscore your opponent and chase down their total adds an electrifying intensity rarely seen in other traditional ball games.
Dedicated cricket enthusiasts will revel in the opportunity to smash six-hitters off their opponents' deliveries. However, it's not merely about batting prowess - Cricket Live places equal emphasis on bowling too, adding another layer to this multi-dimensional game. So whether your strength lies in perfect yorkers or powerful pulls, there's a place for you on this digital pitch.
The user interface is intuitive with well-designed controls that make maneuvering your players around easy and seamless – making Cricket Live accessible even for newbies in sports gaming genre. The visual aesthetics are pleasing with realistic graphics that mimic real-world stadiums are sure to hold your attention steadfast from over to over.
In conclusion, if you're seeking an adrenaline-fueled escape into the cherished world of cricket with a blend of strategies and split-second decisions- look no further than Cricket Live. With its superior gameplay and realistic graphics, this game promises an unparalleled cricketing experience that will undoubtedly gratify all sports enthusiasts.
What are the best online games?