Crescent Solitaire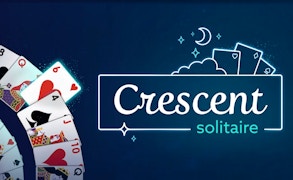 Crescent Solitaire
Solitaire is a card game that is meant to be played on your own considering the title but there are ways to transform it like with Crescent Solitaire. Anyone who knows the basic rules of Solitaire will be able to understand this game as soon as they pick it up as soon as it begins. That being said, it can still provide quite the challenge and those new to the game will able to learn the mechanics rather quickly. At that point, you can test yourself to see just how well you can get things sorted and just how quickly you can do so too.
About Crescent Solitaire
Much like how it is said that there is a list of essential movie plots, there's also a list of essential game structures. One of them refers to traditional games which can then be transformed into a digital format. A nice thing about this game is that it can be recreated easily with a deck of cards but does take a little time to set up. This version keeps things neat, clean, and clear so that you don't have to worry about missing anything. It's a game that will keep you occupied and your mind active as you try to determine the arrangement.
How to Play
Crescent Solitaire is a 2D top-down card game based on a classic that is played entirely with the mouse. To select a card, click on it with the Left Mouse Button. You can move cards around by clicking, holding, and then dragging them to where you want them. The cards are arranged with two rows of four in the center and the rest of the cards in an arc (or crescent) around them. The goal is to clear the cards from the crescent and move them all to the cards in the center rows.

The rules are simple: Cards can only be placed on top of each other if they have the same suit and move either one point up or one point down. Any card can be moved to any stack in the crescent or in the center as long as it fulfills those conditions. You have a time limit of around 15 minutes to clear all the cards, as well as a limited number of reshuffles to rearrange the crescent, and a Hint button if you get stuck. These can all be found at the top of the game screen. The game ends once the time limit runs out or you clear all the crescent cards.

Tips and Tricks
After a preliminary scan of the current crescent cards for any current matches, be prepared to quickly move them slightly so you can see what's underneath and plan ahead. Don't be afraid to move cards back and forth from the center and crescent if it reveals more moves.
Game Details
Developer: Wes Cherry (creator of the original)
Platforms: Web Browser (PC and mobile), iOS, and Android
Languages: English
Gameplay Footage
FAQs
What is the hardest Solitaire game?
Crescent Solitaire actually borrows rules from Spider Four Suits Solitaire which is considered the hardest version since all stacks must be in order and the same suit.

Games similar to Crescent Solitaire
As can be discerned from the title and appearance, this game fits into the Card and Solitaire Games categories games on GamePix. Other games include Poker World, Las Vegas Blackjack, Solitaire Story, and Spider Solitaire Blue.
What are the best online games?
Tags