Crazy Tunnel 3D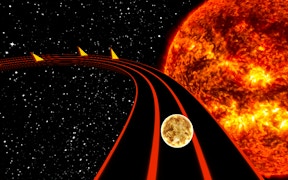 Crazy Tunnel 3D
Dive into an incredible journey filled with breathtaking visuals and adrenaline-pumping action in the astounding ball game, Crazy Tunnel 3D. A standout title in the sea of arcade driving games, this is a game that will put your reflexes and hand-eye coordination to the ultimate test!
At its core, Crazy Tunnel 3D is one of those skill games that challenges your ability to adapt and respond - all while maintaining a sense of hyper casual fun. Your mission, should you choose to accept it, is simple: avoid any and all obstacles. Navigate through a challenging maze by tapping left and right. Rotate around and dodge, or press and hold to take flight before releasing to land. Each successful maneuver is as rewarding as it is thrilling.
Beyond its hyperactive gameplay mechanics, Crazy Tunnel 3D boasts vibrant hues and exciting effects that bring the game's challenging environment to life. This isn't just a tunnel – it's an earthen rollercoaster ride steeped in pulsating colors! But that's not all. You can personalize your gaming experience by unlocking different orbit styles. Customization adds another layer of depth to this skill-based ball game.
Whether you're looking for a quick gaming fix or craving for a challenge that will push your gaming skills to the limit, Crazy Tunnel 3D effortlessly delivers. It encapsulates everything great about arcade ball games, hyper casual games, and driving games – all rolled into one electrifying package!
In conclusion, don't just wait on the sidelines; jump in and play Crazy Tunnel 3D today! Experience the thrill of high-speed rotations, daring dodges, and captivating flights in this standout amongst hyper casual skill games.
What are the best online games?