Crazy Dog Racing Fever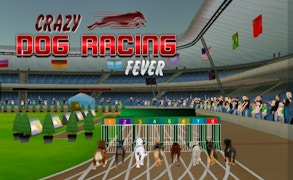 Crazy Dog Racing Fever
Immerse yourself in the enthralling world of virtual pet racing with the captivating game, Crazy Dog Racing Fever. A front-runner in the realm of animal games and running games, this quirky and energetic title offers a unique take on traditional sports gaming. A thrilling greyhound race like no other awaits you, promising an adrenaline rush you won't soon forget.
Delightfully unpredictable, Crazy Dog Racing Fever catapults you into the midst of the world's biggest dog race tournament. The stakes are high with a coveted championship title up for grabs. No other game embraces the wild unpredictability of animal and pet racing quite like this. Leave conventionality behind as you steer your canine competitor towards glory.
The gameplay revolves around controlling your spry greyhound. Using either the up arrow key or 'W', players must skillfully increase their pup's speed to outpace rivals and clinch victory on the racetrack. Sure, it might sound simple but remember - this is no ordinary racetrack and these are no ordinary dogs.
The beauty of this game lies not only in its straightforward mechanics but in its chaotic nature which unerringly captures the essence of real-life dog racing. What's more, Crazy Dog Racing Fever brings forth a 2020 crazy racing championship making it a timely and trending choice among gamers worldwide.
In conclusion, Crazy Dog Racing Fever is more than just another addition to popular animal games or running games genres; it's an exhilarating ride that offers a fresh perspective on sports gaming. Prepare yourself for a fur-flying, tail-wagging adventure that is sure to push your competitive spirit to its limits!
What are the best online games?