Crazy Car Racing Stunts 2019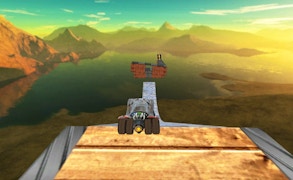 Crazy Car Racing Stunts 2019
If you're a fan of car games, brace yourself for a wild ride! Welcome to the adrenaline-pumping world of Crazy Car Racing Stunts 2019, a thrilling concoction of speed, precision, and jaw-dropping stunts. This game delivers an unparalleled racing experience that takes you soaring high above the iconic Burj Khalifa, diving deep underwater, and everything in between.
In the vast arena of driving games, Crazy Car Racing Stunts 2019 stands out with its crazily inventive mix of off-road madness and gravity-defying stunts. It's not just about being the fastest; it's about successfully pulling off improbable feats while zipping past airplanes and luxury submarines. If that's not enough to get your heart racing, what is?
True to its promise as an extreme and free car stunt game, this title invites you into an immersive world that's as realistic as it gets in simulator games. The tantalizingly tricky mega ramp requires precise timing and top-notch driving skills for those outrageous aerial spins. Fly your car over air planes, zip past super speed boats or explore the depths with a luxury submarine – this game is an exhilarating roller coaster ride!
The astonishingly inventive challenges keep the experience fresh with every race making it one of the best offroad games of 2019. Unleash your inner daredevil with Crazy Car Racing Stunts 2019. Whether you're gunning your engine on a mega ramp or defying gravity over skyscrapers and under sea waters – This game will leave you begging for more!
Overall, Crazy Car Racing Stunts 2019 does a glorious job in balancing extreme races with realistic simulation. But don't take our word for it: put your helmet on, buckle up, and brace yourself for one crazy ride!
What are the best online games?