Crazy Bunny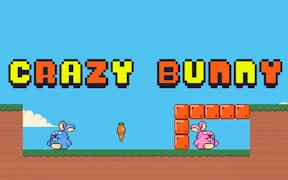 Crazy Bunny
Welcome to the thrilling journey into the vibrant universe of Crazy Bunny, a game that splendidly unifies the enthralling facets of animal games, pixel games, and brain games. As an arcade enthusiast, this game will transport you into its fascinating world and hold your attention captive for countless enjoyable hours.
The world of Crazy Bunny is festooned with beautiful pixelated visuals, invoking a sense of nostalgia whilst still providing a fresh and unique ambiance. This ingenious infusion of retro-style aesthetics within a modern pixel game format is nothing short of artistic mastery. The game's visual allure compels you to dive into this kaleidoscopic pixel paradise time and time again.
Beyond its compelling visuals, Crazy Bunny introduces an adorable animal character that sets it aside from conventional animal games. The titular Crazy Bunny, with its lovable quirks and dynamic abilities, brings forth an adorable charm that resonates throughout the gaming experience. This unique character design enhances player connectivity and induces an emotional investment in the gameplay.
Crazy Bunny triumphs as one of those rare brain games, combining cognitive challenges with entertaining gameplay seamlessly. The engrossing brain keeners integrated into each level fosters strategic thinking and problem-solving skills. To progress in this cerebral playground, one must not only jump and run but also unravel mind-bending puzzles adding depth to this casual platformer.
In conclusion, Crazy Bunny is an immersive amalgamation of visually stunning pixel aesthetics, delightful animal character designs, and thought-provoking brain challenges. A gem among arcade titles today, it offers gamers much more than just mere entertainment—it promises a memorable experience worth revisiting. So gear up for intense sessions of fun-packed gaming with Crazy Bunny.
What are the best online games?