Craftsman Hidden Items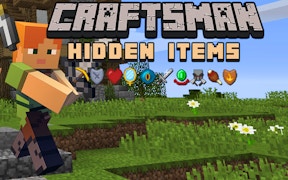 Craftsman Hidden Items
Step into the pixelated world of Craftsman Hidden Items, a riveting fusion of Minecraft Games, hidden object games, and brain-challenging puzzles that will undoubtedly test your perception and expedite your heart rate. This free online game effortlessly transports you to an immersive environment where your attention to detail is the key to unravel the mysteries hidden in plain sight.
Picture yourself as a virtual archaeologist, meticulously scanning an area laid before you. Each pixel game level in Craftsman Hidden Items requires players to deeply scrutinize the interactive painting-like pictures. Think of it as a treasure hunt where the gems are cleverly woven into the fabric of each stunning visual puzzle. As soon as you spot one, give it a deft click, and presto - one down, only nine more to go!
This intriguing amalgamation of Minecraft-esque visuals and hidden object gameplay serves up a total of 8 intricate levels, each with its own set of challenges. Every level demands you to discover 10 skillfully concealed items. The thrill lies not just in the search but also in the satisfaction when you uncover each cleverly camouflaged item.
Indeed, playing Craftsman Hidden Items stimulates your brain and sharpens your focus like no other pixel games out there. With its engrossing gameplay and high-replay value courtesy of its multiple levels, it draws you into its charming world flawlessly disguised objects that compel even seasoned gamers to lean forward in their seats.
In short, if you're hankering for an enticing blend of Minecraft games with hidden object elements and demanding brain games, then Craftsman Hidden Items is just what you're looking for. So dive right in, flex those cerebral muscles, and embark on this remarkable treasure hunt adventure.
What are the best online games?