Crab Shooter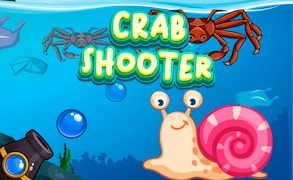 Crab Shooter
Description
Step into the role of a defending crab in Crab Shooter, a thrilling online shooting game. Packed with action, your goal is to annihilate as many enemies as you can within a given timeframe. This top-down shooter brings you waves of enemies ranging from hostile crabs and fish to human invaders. Score points by taking down opponents, and unlock exciting new levels for endless aquatic warfare.
How to play
In Crab Shooter, navigate using your mouse or keyboard arrows, while firing is initiated using a simple left mouse button click or spacebar press. Your progress is determined by the number of enemies you successfully eliminate. Each level comes with its unique challenge so stay alert! Aim accurately and shoot swiftly to destroy incoming attackers and advance further.
Tips and Tricks
To excel in Crab Shooter, mastering quick movement and precise shooting is crucial. Always keep an eye out for multiple attackers. Shooting groups can earn you more points. Moreover, remember to make full use of the environment - hiding behind rocks or algae could give you the upper hand against your opponents.
Features
Variety of Enemies: Face off against varying types of opponents including other crabs, fish, and humans.
Different Levels: Progress through increasingly challenging levels for unlimited gameplay.
Action-packed Gameplay: Fast-paced shooting action that tests your aim and quick decision-making skills.
Precise Controls: Use easy-to-learn controls for smooth navigation and accurate shooting.
What are the best online games?