CPL Cricket Tournament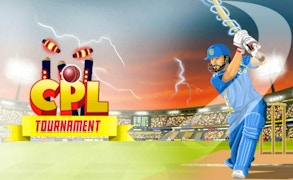 CPL Cricket Tournament
The realm of sports games is being lit up by an exciting entrant, "CPL Cricket Tournament", a promising game that has effortlessly amalgamated the elements of thrill, skill and virtual reality. This virtual cricketing experience extends an exclusive platform for those who breathe, talk, and live cricket. A feast for cricket game enthusiasts, it accentuates the glory of participating in a Premier League, right from the comfort of your own home.
The flagship feature of this captivating game is its flexibility; you can choose to play either a 2, 5 or 10 over match depending on your preference or available time. The essence of ball games lies in the player's control; CPL Cricket Tournament lets you be the master of your team just with a simple tap on the screen to take that perfect shot.
Falling under the category of IPL (Indian Premier league) team based games, it allows you to pick your favorite team and lead them to victory. Your gaming journey stretches across conquering four matches to reach the quarterfinals which comes with its own level of adrenaline rush. All through this journey, you are tasked with chasing a target within specified balls – a challenge that escalifies with each level.
An added feather in this game's cap is its impeccable graphic interface and sound effects that leave no stone unturned in making your virtual cricketing experience as raw and real as possible. Providing an immersive experience, it helps players hit big sixes, thereby enhancing their engagement quotient tenfold.
To sum it up,CPL Cricket Tournament is not just another addition to the array of cricket games, it's a revolution that promises to redefine how we perceive sports-based gaming. So gear up, pick up your virtual bat and ball and embark on this thrilling journey towards cricketing glory!
What are the best online games?
TAGS