Cool Goal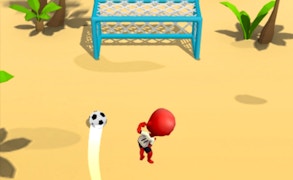 Cool Goal
If you're someone who thrives on the thrill of soccer games and has an affinity for ball games with challenging elements, then you'll find yourself promptly attracted to the game, Cool Goal. This is not just another football game that you play to pass time. No, Cool Goal is an immersive 3D relaxing football escapade that demands your undivided attention and never fails to keep you on the edge of your seat.
In Cool Goal, you find yourself taking control of a character with a primary aim of netting the football into the basket. Sounds simple enough? Think again! The path to success is riddled with enemies and obstacles that require exquisite timing and brilliant strategy to circumvent. This is what truly sets Cool Goal apart in the list of soccer games.
Every level in Cool Goal unveils new challenges, making this one of those captivating ball games that keeps you coming back for more. What I personally find intriguing about Cool Goal is how it seamlessly blends the intense action of a soccer match with soothing elements of relaxation.
The game's aesthetics are worth mentioning too. The 3D elements are beautifully designed and add depth to every kick, tackle, and goal. Sounds appealing? It certainly is! But don't just take my word for it! Get off the sidelines and dive into a world where every corner kick brings a rush of adrenaline.
Cool Goal successfully manages to provide a fresh spin to traditional soccer games while ensuring hours filled with thrill and excitement. So gear up, put your game face on, dodge those enemies, score those goals and see how many levels you can conquer in this riveting new game - Cool Goal!
What are the best online games?
Tags