Cooking Tile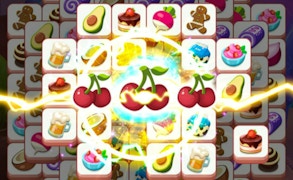 Cooking Tile
If you identify as a gamer with a penchant for the cerebral, who gets a thrill out of cooking games, or if you're a veteran aficionado of match 3 games, then the brain-teasing extravaganza that is Cooking Tile might just taste like your gourmet dish.
From its opening salvo, Cooking Tile sets itself apart as a vividly colorful and deliciously addictive tile puzzle game. It marries the best elements of match-3 madness with an engaging culinary theme to deliver an experience that is as satisfyingly intricate as a Michelin-starred recipe. The delightful patterns on the tiles are like scrumptious ingredients, waiting to be matched, blended and blasted for points.
The game is deceptively simple to grok but pays off in dividends once you dive into its depths and master its mechanics. Don't let the cute, vibrant art style fool you - Cooking Tile is designed to stretch your cognitive muscles and hone your decision-making skills.
Beneath its charming exterior lies the heart of a true brain game. Its blistering pace demands lightning-quick reflexes, and each match holds potential for monumental cascades of satisfying tile-crushing action. If you've ever relished the thrill of hearing the sizzling sound effects while whipping up mouthwatering virtual meals in cooking games or felt your pulse quicken at achieving high score combos in match 3 games, Cooking Tile will ignite those breezy memories with a fiery twist.
In summary, Cooking Tile isn't just another run-of-the-mill puzzle game; it's an extraordinary fusion of fast-paced action and strategic depth that will delight fans of cooking games and match 3 games alike. Rest assured; you'll leave each addictive session hungry for just one more bite!
What are the best online games?