Cookie Crush: Christmas Edition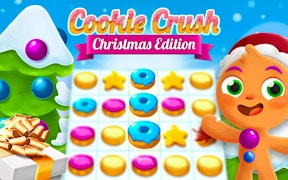 Cookie Crush: Christmas Edition
Step into a winter wonderland this holiday season with Cookie Crush: Christmas Edition, one of the best match 3 games released this year. This festive twist on the beloved classic, Cookie Crush, combines all the thrilling and addictive match-3 gameplay with a sprinkle of Christmas joy. Set in a colourful Christmas-themed background and filled with delectable virtual sweets, it's sure to get you in the festive spirit.
Embark on a sweet journey through snowy lands, decorated trees, and jingle bells. Seize the opportunity to show off your puzzle-solving skills as you switch and swap festive candy pieces to conjure up explosive combos. If you're longing for games that are as full of cheer as your favourite Christmas games, then look no further than Cookie Crush Christmas Edition.
The real beauty of the game lies in its simplicity. It's an easy-to-play yet challenging game for all ages. It's perfect for those relaxed family evenings around the fireplace or even as a fun distraction during your lunch break at work. The joyful sound effects and charming animations will keep both you and younger players entertained for hours, making it one of our top recommendations for family games.
But don't be fooled by its innocent appearance! Progressing through levels requires planning and strategy - perfect for those who love a good brainteaser! And watch out for some unexpected surprises that keep each level fresh and exciting.
In conclusion, Cookie Crush: Christmas Edition is not just an ordinary match 3 game - it's full of hours of fun, challenge and cheers! Get ready to crush your way through ice-cold levels and climb your way to the top of the leaderboards. What's more? It's absolutely free! Brace yourself for some sugar rush as you play Cookie Crush Christmas Edition now!
What are the best online games?