Connect The Dots Plus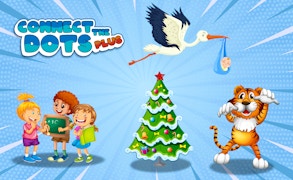 Connect The Dots Plus
Description
In the vibrant and amusing world of Connect The Dots Plus, children are invited to unravel a myriad of colourful designs and figures. Hidden within a series of interconnected dots, a beautiful artwork awaits discovery. As players progress, they will find each level unveiling a more intricate and visually appealing pattern, encouraging them to dive deeper into this enchanting number game.
How to Play
To start playing Connect The Dots Plus, simply connect the dots in numerical order. Carefully follow the sequence, as leaving out any dot will keep the drawing from completing. To progress to new levels, reveal the figure hidden within the dots. Invite family and friends for a shared gaming experience!
Tips and Tricks
For an evenly developed game skill, start with lower-level puzzles before moving onto more complex ones. Take your time - hastily connecting dots might lead you to miss some. Remember, patience is key in revealing all the beautifully designed figures.
Features
A variety of colorful and detailed designs.
User-friendly interface designed for children.
A great tool for teaching and implementing number sequences.
The option to share the fun with family and friends.
A multitude of levels for challenging gameplay.
What are the best online games?
Tags