Complete The Missing Numbers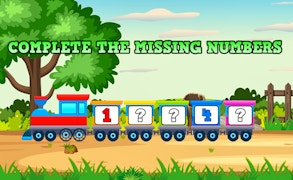 Complete The Missing Numbers
Welcome aboard! Today we'll be embarking on an enchanting interactive journey called Complete The Missing Numbers, an innovative gem in the realm of educational games designed especially for kids. So fasten your seatbelts and prepare to let your mind chug along the tracks of fun-filled learning.
In this game, players are propelled on a thrilling quest to help a train by dragging and dropping numbers to fill the missing wagons. Unarguably, it's not just another number game. Rather, it seamlessly blends education with amusement, making it a standout in the kids' genre.
Each level showcases an intriguing setup of incomplete sequences waiting to be perfected by eager minds. The game's clever design ensures that it isn't overly complex for young learners but yet presents just enough challenge to keep them engrossed and stimulated.
One of the highlights of Complete The Missing Numbers is its ability to make numbers seem less intimidating, transforming them instead into pieces of an exciting puzzle. It undoubtedly plays a pivotal role in enhancing numerical cognition and developing logical reasoning among children – all while ensuring they have a whale of a time!
The vibrant graphics and captivating sound effects further add to the overall gameplay experience, making it a visual treat for young gamers. The pleasing aesthetic complements the educational content wonderfully, reinforcing learning outcomes without compromising on fun.
All things considered, Complete The Missing Numbers is a must-try for parents seeking interesting yet educational games for their children. It's truly more than just a game – it's an engaging learning tool cleverly disguised as gratifying playtime! So go ahead and stoke those curious minds with this fascinating game. All aboard!
What are the best online games?