Colors Bubble Shooter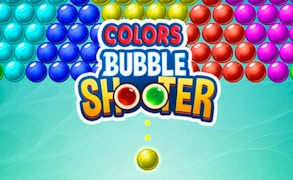 Colors Bubble Shooter
Welcome to our game review of one of the finest entries in the realm of ball games and Bubble Shooter Games - Colors Bubble Shooter. This captivating shooter game is an excellent embodiment of arcade simplicity, combined with a fun twist that attracts not just individuals, but entire families too!
Colors Bubble Shooter sets itself apart with its unique color-matching gameplay. The objective? Connect at least three bubbles of the same color to pop them. But it's not as easy as it seems! A perfect fusion of strategy and precision, this game challenges you to adjust your angles right and skillfully bounce bubbles off the walls to strike those hard-to-reach spots.
The real charm lies in its bomb boosts. The nail-biting thrill escalates as you unleash lightning and sun bombs to clear entire sections. No two gaming sessions are alike; every round brings an adrenaline rush with it.
The ice blocks add another exciting layer to the gameplay. These can only be destroyed by popping bubbles adjacent to them. Every burst brings you closer to clearing the board before running out of bubbles - a challenge that keeps your anticipation on a high throughout your gaming experience.
In conclusion, Colors Bubble Shooter is a masterpiece in the genre of arcade games. It gives you a chance to test your strategic thinking and aim precision in a colorful, vibrant environment. This game stands tall among other ball games and is indeed an enjoyable addition to the expanding universe of Bubble Shooter Games.
What are the best online games?