Color Tunnel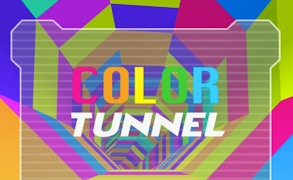 Color Tunnel
Prepare to lose yourself in a whirlpool of vibrant hues and heart-stopping action with the electrifying arcade game, Color Tunnel Rush. This skill-based game takes you on a thrilling journey through a psychedelic tunnel filled with vibrant colors and formidable obstacles, where only the quickest and most precise will survive.
From the creators of popular games like Slope and Run 3, comes this adrenaline-pumping experience that demands lightning-quick reflexes. Color Tunnel Rush sets itself apart from other arcade games with its brilliant mash-up of high-speed action and eye-catching aesthetics.
The premise is simple, yet wildly addictive. You're propelled at breakneck speed through a dazzling, ever-changing tunnel. Up ahead, obstacles of varying shapes loom larger with each passing second. Quick judgement and nimble fingers are your only arsenal against these interferences. The electrifying pace of the game leaves no room for hesitation; perfectly encapsulating the 'rush' in its name.
Color Tunnel Rush is tailor-made for gamers who thrive on challenges. As far as Skill Games go, this gem tests not just your hand-eye coordination but also your ability to adapt on-the-go. Every run is a unique experience as you never get the same sequence of obstacles twice; keeping you on your toes at all times.
The game's most irresistible feature is perhaps its hypnotic aesthetic. The swirling palette of colors enhances the sense of speed and makes every playthrough feel like a trippy roller-coaster ride. Breaking your own record becomes an obsession as you navigate through this mesmerizing color maze.
In essence, Color Tunnel Rush offers an exceptional fusion of challenge and charm - making it a shining beacon in the realm of skill-based arcade games. So buckle up, stay focused, flex those fingers and prepare to dive into a world where colors rule!
What are the best online games?
Tags