Color Roll 3D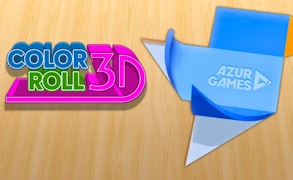 Color Roll 3D
Welcome to the world of Color Roll 3D, a unique fusion of brain games and coloring games that will put your mental agility and creativity to the ultimate test. This laugh-inducing puzzle game is more than just a fun pastime, it's an exercise for your brain that will challenge your strategic thinking and problem-solving skills.
In Color Roll 3D, you'll need to deduce the correct colors to roll out first, figure out the arrangement of each layer, and ultimately layout an intricate pattern. It's like unraveling a colorful Rubik's Cube – one that comes with its very own set of mind-bending twists!
The game design is simple yet effective. The visually stimulating levels captivate you right away, keeping you engaged for hours on end. But don't be fooled by its seemingly straightforward gameplay - just when you think you've mastered the pattern, Color Roll 3D throws in a curveball designed to leave even the most seasoned gamers scratching their heads.
How many levels can you conquer? The more you play, the deeper into this vivid labyrinth you'll delve. With every victory comes a sense of accomplishment – that exhilarating feeling when all the pieces fall into place and the image takes shape exactly as it was meant to.
In short, Color Roll 3D is a kaleidoscope of challenges waiting for gamers who love to push their mental boundaries. So if coloring books are too passé for you and brain-teasers are your kind of thrill, why not combine these two worlds in this vibrant puzzle game? Pick up your virtual paint roller and prepare for an epic rollercoaster ride through an ever-changing landscape of patterns and colors!
What are the best online games?