Color Maze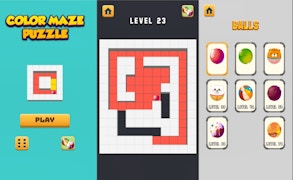 Color Maze
Description
In Color Maze Puzzle, guide your ball through a complex network of multi-colored pathways. This maze-like game requires you to not just navigate successfully, but also paint the whole board in the color of your rolling ball. With its mind-bending puzzles and vivid colors, this game is sure to keep you hooked for hours.
How to play
Your task is to swipe across the screen in order to move your colored ball through the maze. The objective is to color every part of the maze with your ball. Keep an eye out for shortcuts or longer paths that allow you to easily cover more space. Completing each level requires strategy and careful swipes.
Tips and Tricks
Bear in mind that the labyrinth does not have a single correct solution. There are multiple paths to the same destination, some quicker than others. Experiment with different routes and remember that being fast isn't always advantageous. Take time to plan your path before making moves.
Features
The game offers:
A unique combination of maze navigation and coloring puzzle mechanics
A variety of different mazes to solve, each presenting its own challenges
Colorful graphics that visually pleasing and engaging
An intuitive control scheme suitable for players of all ages.
What are the best online games?