Color Hole 3D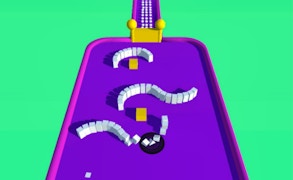 Color Hole 3D
Welcome to a world where your white object devouring instincts take center stage. Color Hole 3D, a ground-breaking title in the realm of arcade ball games, tests not just your gaming prowess but also your adroitness in handling a black hole. The game has been creating ripples in the arcade genre landscape with its quality physics, addictive gameplay, and stress-busting traits.
Falling under the category of Hyper Casual Games, Color Hole 3D keeps you engaged with its simplistic yet arresting environment. You are at the helm of a voracious black hole to gobble up everything white. Sounds easy? Think again! This engaging game is more than meets the eye.
The beauty of this game lies in its unpretentious design that demands both mastery and strategy. Gamers must exhibit commendable skill as they navigate their black hole to devour objects gleaming white. Because if you accidentally ingest another color, it's game over!
Color Hole 3D is one of those Skill Games that elevates simplicity to intrigue. It is akin to solving an evolving puzzle that depends on your nimble fingers and quick thinking capabilities. Your journey through levels not only sharpens your gaming skills but provides an adrenaline rush seldom experienced in similar games.
What makes this game a standout contender amongst other ball games is the exponential challenge curve. Each level ups the ante, compelling gamers to improve their technique and approach each time they play.
In conclusion, Color Hole 3D symbolizes what contemporary arcade gaming aspires to be - uncomplicated yet challenging, predictable but engaging - serving players delightful moments of exhilaration. If you're seeking a perfect blend of agility, focus, and casual gaming, look no further than Color Hole 3D - a tour-de-force in the domain of ball games that promises hours of engaging fun!
What are the best online games?