Color Eggs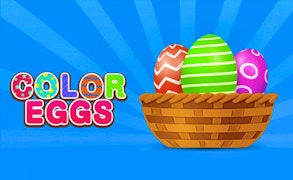 Color Eggs
Welcome to the world of Color Eggs, a mind-boggling puzzle game that transforms the simple act of egg painting into an intricate canvas of intrigue and strategy. If you're a fan of coloring games and hyper-casual games, prepare yourself for an exciting twist on these familiar tags.
In Color Eggs, your mission is deceptively simple – expertly arrange stencils on eggs, immerse them in vivid paint, then remove the stencils to reveal your bespoke masterpiece. However, as any seasoned player will tell you, the devil is very much in the details. Each choice you make could lead to a masterpiece or a mishap, pushing your puzzle-solving skills to their limit.
This is not just another run-of-the-mill egg coloring game. Color Eggs combines the addictiveness of hyper-casual games with the strategic intricacies of puzzle games. The clever use of stencils introduces an element of strategy which sets it apart from conventional coloring games. You'll find yourself immersed in thought as you plot out your next move.
The simplicity of Color Eggs belies its underlying complexity, making it one helluva hypnotic brain workout. Just when you think you've mastered the art, a new challenge hatches from beneath its shell - keeping gamers continuously engrossed in its vibrant world.
To sum up, Color Eggs is an engaging amalgamation of creativity and cogitation - both entertaining and thought-provoking in equal measure. If you're looking for a fresh take on coloring games or love hyper-casual games with an intellectual edge, then don't miss out on experiencing this colorful conundrum!
What are the best online games?