Color Blocks 1010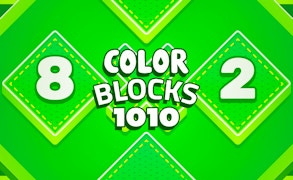 Color Blocks 1010
Description
Immerse yourself in the world of Color Blocks 1010, a captivating block puzzle game that offers endless fun. It's all about strategic placement of colorful blocks to form and clear lines. The game's simplicity makes it appealing, but its complexity will challenge your logical thinking and problem-solving skills. With its eye-soothing graphics and unlimited gameplay, Color Blocks 1010 is suitable for players of all ages.
How to play
Color Blocks 1010 is controlled entirely by your mouse or touch screen. Simply click or tap to select a block from the three provided options at the bottom of the screen, then place it onto the grid wherever you see fit. Your goal is to strategically place blocks in order to form full vertical or horizontal lines on the grid. These lines will then be cleared, giving you more space to continue playing.
Tips and Tricks
In Color Blocks 1010, always think ahead! Plan your moves carefully considering potential future block sets. Try to keep as much of the grid clear as possible for new blocks. Use auxiliary bonuses wisely when you find yourself in a tight spot and don't forget to make use of game themes that cater to different times of day for a personalized gaming experience.
Features
Variety of ready-made themes available.
Suitable for gamers of any age.
Inclusion of auxiliary bonuses for game progression.
Night theme available for eye relaxation and night-time gaming sessions.
No time limit allowing endless gameplay.
What are the best online games?