Coin Dozer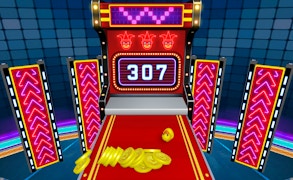 Coin Dozer
Prepare for a mesmerizing journey into the heart-pounding, adrenaline-infused world of arcade gaming with Coin Dozer, an outstanding entry in the realm of casino games, money games, and slot games. This addictive game masterfully encapsulates the thrill and allure of a vintage coin dozer machine, reimagining it into an immersive virtual experience that will undoubtedly appeal to both veteran gamers and newcomers alike.
At its core, Coin Dozer challenges players to strategically push coins into the bank to boost their score. But this is not merely a simple test of precision. Simultaneously, players must strive to maneuver coins into gutters to collect valuable 'karma'. Each successful move promises not only an increase in points but also super cool prizes that further enhance the gameplay.
The excitement doesn't end here! Coin Dozer invites you on epic quests that take you through amazing worlds. The power-ups are nothing short of brilliant and upgrading your abilities is absolutely crucial to break new ground in this game. Played with the correct strategy, they can help rake in massive rewards that transform your coin pushing experience dramatically.
The exhilarating spin wheel or jackpot slots introduce another layer of thrill, tempting gamers to try their luck for a grand prize. Furthermore, you're not alone on this unforgettable adventure! Join thousands of players across the globe on what's widely acclaimed as the BEST DOZER GAME on the store. Invite your friends along for an epic gaming session as Coin Dozer's multiplayer mode sets new benchmarks in social gaming.
In summary, Coin Dozer is a shining star among arcade games, seamlessly combining elements from casino games, money games and slot games into one streamlined package. Its charm lies not only in its dynamic gameplay but also its ability to connect people through its compelling multiplayer mode. Dive into this exciting escapade today and enjoy a unique blend of fun and strategic gameplay.
What are the best online games?