Code Panda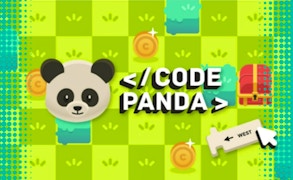 Code Panda
Set your gaming gears in sync with your brain circuits as I introduce to you a unique blend of puzzle and coding, the mesmerizing world of Code Panda. This masterpiece is not merely one of the animal games, but a jewel in the crown of the puzzle genre. With its brilliance, it blurs the line between brain games and educational games, offering an entertaining platform to learn coding whilst guiding a panda through its natural habitat.
Put simply, Code Panda is where fun meets intellect. The game invites you to utilize drag and drop programming blocks in logical sequences to navigate your adorable panda towards lush bamboo trees. As the panda chomps down on bamboo, you are simultaneously fed with an intuitive understanding of coding.
The groundbreaking gameplay slowly unfolds through 32 challenging levels. Each level is a new chapter in this enchanting coding tale, growing progressively more complex and demanding sharp mental agility. But fear not, because every victory brings not only joy but also a sense of achievement as you consolidate your coding skills.
In this era where tech-savviness has become an indispensable skill, Code Panda serves as an opportunity to get a head start. Whether you're an aspiring coder or a seasoned puzzler looking for something different, or even just someone who enjoys animal games - Code Panda is sure to captivate and engage!
A parting piece of advice - don't underestimate this cuddly creature's journey! The combination of brain games with Coding's logic creates an addictive cocktail that will leave you thirsty for more!
To sum up; Code Panda: It's more than just a game - It's an adventure into the jungle of logic, packed neatly inside brain-testing puzzles and dressed in adorable animalistic charm.
What are the best online games?