Climb Up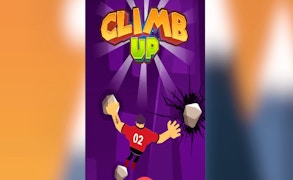 Climb Up
Description
Immerse yourself in a thrilling mix of sports, adventure and arcade action in Climb Up. The game tests your agility and quick thinking as you navigate through challenging terrains. Leap over obstacles, collect power-ups and ascend dizzying heights to reach the top. The immersive design and engaging gameplay offer an adrenaline-filled gaming experience, letting you explore your limits as you climb higher.
How to Play
In Climb Up, players control their character using keyboard arrows or touchscreen gestures on mobile devices. The goal is to avoid obstacles and ascend as high as possible. Power-ups scattered throughout the course aid your ascent, offering unique abilities such as temporary invulnerability or speed boost. Progress is tracked by how high you climb, so keep aiming for new heights!
Tips and Tricks
Timing is everything in Climb Up. Learn the patterns of moving obstacles and time your jumps carefully. Using power-ups at strategic moments can make a huge difference to your climb. Don't rush – sometimes waiting for the right opportunity can lead you further up the course than reckless speed.
Features
Addictive sports-arcade gameplay that challenges players' quick reflexes.
Engaging adventure aspect with dynamic courses and unpredictable obstacles.
Variety of power-ups adding an extra layer of strategy to the action.
Progression system that keeps track of your highest climbs.
What are the best online games?