Climb Over It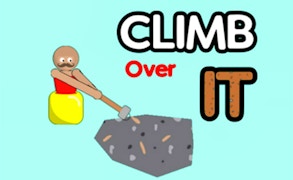 Climb Over It
Immerse yourself in a digital challenge unlike any other and test your dexterity with the captivating arcade skill game, Climb Over It. This exciting title places you in a meticulously crafted environment rich with mountains, rocks and sparkling diamonds. Your mission? Not just to survive, but to thrive as you ascend through each level with unwavering skill and determination.
The backbone of this game is its unique gameplay mechanics. Wielding a hammer using just your mouse, Climb Over It tests your precision and patience like no other arcade game out there. It's not about the rush of the fight or the thrill of the chase; it's a delicate ballet of mouse movements and clicks, where every decision you make directly impacts your progression through this beautifully designed world.
Climb Over It is a testament to what makes skill games so engrossing. The difficulty can be fierce at times, but it's far from discouraging. Instead, each failed climb calls out to your competitive spirit, daring you to try again and conquer the obstacles laid before you. And what better reward for your toil than the glittering allure of collected diamonds? In Climb Over It, these precious gems serve as more than just beautiful scenery—they're tangible markers of your progress, pushing the game forward bit by bit.
In an era dominated by fast-paced shooters and complex RPGs, Climb Over It stands as a refreshing reminder of the sheer joy found in harnessing one's skill within an immersive gaming experience. If you're seeking an enchanting escape that offers a stimulating challenge rather than mindless amusement, swing that digital hammer into action and let Climb Over It pull you into its compelling world.
What are the best online games?
TAGS