Clean The Earth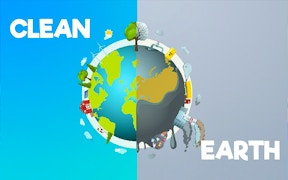 Clean The Earth
Welcome to the delightfully engaging world of Clean The Earth, a game that brilliantly merges the captivating aspects of clicker games, with the educational undertones of games for kids. As an ode to environmentally conscious gameplay, this serves up a unique blend of interactive amusement and learning, creating a perfect platform for kids to learn about the importance of cleanliness and environmental conservation.
The premise is simple yet compelling: your home needs your attention and care. But in this scenario, your 'home' is our beautifully diverse planet, keenly encouraging young gamers to develop a sense of responsibility towards maintaining cleanliness and fostering a sustainable environment.
Apart from being one of the most progressively designed educational games, Clean The Earth excels in its interactive gaming mechanics. This is no ordinary clicker game; every click paints a vivid picture of an earth-friendly lifestyle. From collecting sea trash to destroying poisonous gas generators, every task transforms into an exciting adventure. Unlike other clicker games that only offer mindless tapping, each click in this game represents a step towards a cleaner earth.
And it doesn't stop at dealing with pollutants; players also get the chance to build nature-friendly buildings, making them proactive contributors to a greener future. This innovative approach makes Clean The Earth stand out as not just another addition to the roster of games for kids but as an ideal teaching aid for parents and educators alike.
In summary, Clean The Earth is more than just another clicker game or educational tool. It is an immersive, intelligent gaming experience that brings together fun and learning in equal measures. A game designed not just for entertainment but also to inspire change - because even the smallest click can make a difference!
What are the best online games?