Clean Ocean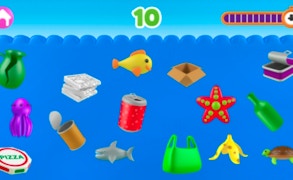 Clean Ocean
Dive deep into a virtual aquatic adventure with the truly immersive Clean Ocean game! A standout in the realm of animal games, this unique, educational offering nourishes young minds while fighting for environmental causes. Developed by the creative minds at Nau.kids, Clean Ocean stands apart from other games for kids, offering a different take on educational gaming.
Clean Ocean is more than a game; it's an interactive experience that plants the seeds of environmental responsibility in young hearts. The game exposes players to the daunting task of ocean clean-up while they navigate the challenges of puzzles, making it an eco-friendly addition to your arsenal of puzzle games. It's not just about entertainment; it's about educating our future generation about the importance of keeping our oceans clean.
The captivating graphics and engaging gameplay invite kids into an underwater world teeming with digital marine life. The fluid interface and easy controls make this game suitable even for younger gamers. As one of our favorite educational games, Clean Ocean strikes a perfect balance between amusement and learning.
The premise is simple yet resonates with a profound environmental message. It seems Nau.kids has cracked the formula, making learning fun and engaging without overwhelming young gamers. This is why Clean Ocean has earned its place among top animal games for children.
In conclusion, if you're seeking an educational yet entertaining game for your little one - look no further. With Clean Ocean, your child can play their part in saving the ocean while mastering their puzzle-solving skills. A refreshing take on traditional games for kids, Clean Ocean promises to keep your children entertained and educated!
What are the best online games?