City School Bus Driving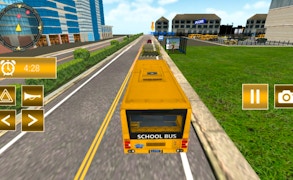 City School Bus Driving
If you've ever fantasized about reliving your school days with a twist, then City School Bus Driving is the game to satisfy that intrigue. This is a brilliant convergence of the world of driving games and simulator games, which expertly merges reality with a sense of nostalgia.
Specially crafted for fans of truck games, City School Bus Driving puts you behind the wheel of an authentic off-road school bus in a pulsating driving adventure. This game is far from the usual fare, it encapsulates everything about high school's bus driving – punctuality, traffic navigation and safe driving are all taken into account.
Just like the best parking games, this game demands precision and skill. But it also takes things up a notch by requiring you to showcase your highway driving skills, all while keeping an eye on the clock because being on time is crucial for this high school commute.
The stakes are high; after all, you're entrusted with the safe journey of high school students to their destination. As such, mastering the techniques and getting better over time gives you not just bragging rights amongst your friends but also makes this one of those perfect Skill Games.
In essence, City School Bus Driving does more than just pacify your thirst for truck games or stimulate your love for simulator games. It crafts an environment that challenges your reflexes and decision-making abilities in a familiar yet unique setting. Check out this game if you are craving an astonishing blend of thrill and nostalgia in one package!
What are the best online games?