City Minibus Driver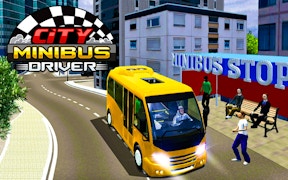 City Minibus Driver
Immerse yourself in the bustling, chaotic, and thrilling universe of City Minibus Driver, a one-of-a-kind experience that brilliantly blends elements from various genres like driving games, car games, and even simulator games. With the added adrenaline rush that comes with racing mixed in for good measure, this game offers an extraordinary and diverse experience to all gamers.
In this intriguing game, you take on the role of a bus driver in a crowded city. Career mode adds a level of authenticity and allows you to genuinely engage in simulated real-world scenarios reminiscent of classic truck games. With a time limit attached, your objective is to flawlessly navigate through the bustling city lanes to pick up passengers and bring them to their respective bus stops. Every successful mission translates into virtual money for you to hoard.
In an unexpected but exciting twist, City Minibus Driver also thrusts players into the exhilarating world of minibus racing tournaments. Here your driving skills are put to the test. Your rewards? Even more virtual money which you can use to upgrade your vehicle from the garage.
The game's complexity doesn't stop there. Mirroring challenges from real-life driving and parking games, there will be times when your bus's wheel explodes or when fuel runs out. Perhaps even dealing with grumpy passengers who are not too pleased with a dirty minibus - all these scenarios demand immediate attention.
City Minibus Driver is not just for individual gamers but also caters brilliantly to those looking for engaging 2 player games. Further enhancing its appeal, this game proves that it has all it takes to stand out in today's sea of car and driving simulations.
To conclude, if you're interested in an immersive driving experience with a twist of real-world challenges and competitiveness, City Minibus Driver is definitely worth taking for a spin!
What are the best online games?