City Furious Car Driving Simulator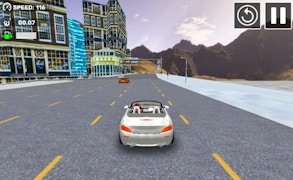 City Furious Car Driving Simulator
Get ready to put the pedal to the metal in one of the most exhilarating racing games of this year - City Furious Car Driving Simulator. This masterpiece, crafted by Game Tap, combines all the elements of popular car games, and adds a violent twist, immersing players into a thrilling street racing universe where the only set rule is to drive unreservedly at super-fast speeds.
The game instantly grabs hold of your attention as you blaze through city streets in your dream sports car. The true-to-life physics engine and sheer intensity make this one of the standout driving games currently on the market. The feeling of gripping the steering wheel, revving up the engine, and launching full throttle into a gutsy drift has never been more realistic. In fact, it rivals some of the best simulator games out there.
This isn't your everyday simulation game though; it's pure adrenaline in digital form. Fueling this exhilaration are wide city roads that entice you to push past your limits and attain hair-raising, high speeds. As if that wasn't pulse-pounding enough, every daring maneuver and reckless overtaking boosts your adrenaline, making City Furious Car Driving Simulator a top contender in Skill Games.
In addition to its exhilarating gameplay, graphics are seriously impressive with stunning views and astonishing car details that immerse gamers into an enthralling world of racing. The game is both a visual feast and a thrilling ride which very few J>racing games can match.
In conclusion, City Furious Car Driving Simulator by Game Tap is not just another title in a sea of driving games. It's an embodiment of speed-fuelled thrill that caters perfectly to adrenaline junkies and speed demons alike. The unparalleled intensity coupled with its heart-stopping action places it as one of the most addictive car games on today's market.
What are the best online games?