City Driving Truck Simulator 3D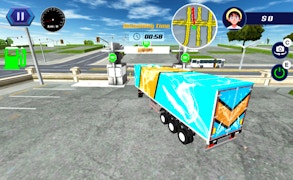 City Driving Truck Simulator 3D
If you've been on the hunt for truck games, car games, or driving games that deliver a thrilling mix of strategy and action, fasten your seatbelt for City Driving Truck Simulator 3D. This driving simulator is far from your average parking game. It's a demanding test of skill, precision, and speed that keeps players engaged with its captivating cityscape and challenging missions.
The game thrusts you into a vibrant 3D cityscape teeming with life, and hands you the keys to a sleek truck. You're not just cruising; you have goods to deliver. With the clock ticking down, this title unfurls a highly strategic experience that compels you to go beyond your comfort zone.
If you think this sounds like most simulator games, think again. In City Driving Truck Simulator 3D, every mission is a new opportunity to prove your driving prowess. The reward? Unlocking even more trucks with unique handling profiles that add layers of replayability.
This is not just about steering and speed - it's about making smart, swift decisions when it matters most. Precision is equally important as you navigate narrow lanes and crowded streets of the city.
The satisfaction of smoothly parking your truck after expertly maneuvering tricky bends is one-of-a-kind in this category of car games. Yes, it requires skill, but once mastered, the resulting exhilaration makes every minute worth it.
In conclusion, City Driving Truck Simulator 3D brings attention to detail and an excellent understanding of what makes driving games fun. With its blend of skill-based gameplay and innovative control schemes, it stands tall among truck games. If you're looking for an immersive game that challenges real-world driving skills while providing hefty doses of fun - hop in the driver's seat and hit the road with City Driving Truck Simulator 3D!
What are the best online games?