City Driver Destroy Car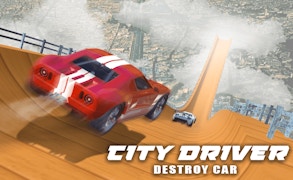 City Driver Destroy Car
Have you ever wanted to experience the thrilling exhilaration of speed, coupled with the adrenaline rush of total destruction? If so, the City Driver: Destroy Car is perfect for you. Billed as one of the most intriguing entries in the categories of car-games, driving-games, simulator games, and battle-games, City Driver: Destroy Car blends the heart-quickening pace of racing games with fascinating demolition elements.
The game plunges you into a crazy world where your purpose is simple yet thrillingly chaotic- to smash your car with vicious zeal. Every dent and scratch brings in bucks, allowing you to splurge on new cars and upgrades. It's demolition derby meets racing in an epic face-off!
Situated at the heart of its gaming mechanics is a unique system of destruction and deformation, bringing an authentic touch to crashes. It significantly enhances game-realism, drawing players deeper into this entertaining chaos.
The perfect blend of 3D car racing and Sky jumps from skyscrapers, it offers an immersive racing experience seldom encountered before. Its realistic handling reminiscent of premium driving simulators adds another layer of captivating realism for gamers.
A large selection of cars awaits players chomping at the bit for some vehicular carnage. Whether you're into sleek sports cars or beastly trucks, City Driver: Destroy Car caters to everyone's taste. Offering a vast canvas for your destructive tendencies with a multitude of vehicles to choose from makes this game a standout gem among car games.
In sum, if you're searching for adrenaline-pumping action embedded within stunning 3D landscapes, then strap in and get ready for a wild ride with City Driver: Destroy Car. Experience a blend of speed and destruction that will keep you coming back for more!
What are the best online games?