City Bus Simulator 3D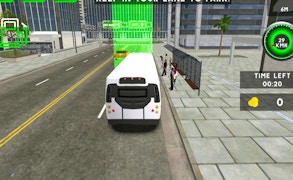 City Bus Simulator 3D
Step into the thrilling world of City Bus Simulator 3D, an enthralling addition to the landscape of driving games. Infusing the exhilarating dynamism of racing games with the strategic manoeuvring found in parking games, this simulator game is more than just a routine stop for gamers. Take on the role of a bus driver navigating through bustling cityscapes and rugged off-road paths to make your mark in this immersive universe.
This extraordinary blend of car games and truck games truly stands out, delivering an adrenaline-fueled experience that tests your driving skills. From congested city corners to winding countryside roads, each level in the City Bus Simulator 3D game is a unique challenge sure to keep you on the edge of your seat.
In this driving 3D simulator game, reaching your destination on time isn't enough. The real magic lies in mastering control over your massive vehicle, learning to anticipate route challenges, and perfecting those white-knuckle turns. Whether you're an experienced virtual driver or new to simulator games, City Bus Simulator 3D offers a level of depth and challenge that goes beyond the norm.
The City Bus Simulator 3D takes cues from both conventional car and truck gaming genres but presents a fresh spin with its focus on precision timing and meticulous movement. This fascinating marriage between different gaming genres makes it more than just another title in the long list of driving games. It's an unforgettable journey that's worth every gamer's pit stop.
To sum up, if you're looking for a riveting joyride filled with numerous levels featuring diverse terrains and challenges, then fasten your seat belts for City Bus Simulator 3D. It firmly positions itself as a go-to destination for fans of driving titles and brings an exciting new dimension to standard parking games and simulation experiences.
What are the best online games?