City Bus Driver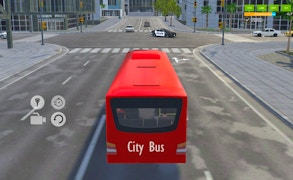 City Bus Driver
If you're a fan of truck games, car games, driving games, parking games or particularly simulator games, then tighten your seatbelt for an electrifying ride in the exciting world of City Bus Driver. Venture into a large, bustling city and experience the adventurous life of a public transport bus driver.
The game's realistic design takes you through vibrant city streets, transporting your bus from one point to another, as passengers hop on and off, rewarding you with points. Think of it as a magic carpet ride, but with the additional thrill of traffic rules and navigation. These points can be collected or used for customizing your vehicle to match your personal taste and style. The game is not just about transporting passengers; it's about doing it with swagger.
The driving impressions on City Bus Driver are unbelievably real; showing strong resemblance to racing giants in the simulator game industry. Offering multiple bus mods options, playing this game is like being in control of Optimus Prime himself; thrilling yet demanding responsibility.
Bus driving games give an opportunity to learn while having fun, and City Bus Driver is leading that race. Besides honing your driving and parking skills, this game would also test your management and multi-tasking abilities because remember, as a driver, you are also in control of the safety and lives of dozens of virtual passengers.
Fasten your seat belts, start your engine, check the mirrors and embark on an exciting journey through bustling traffic lines as a public transport bus driver in this mesmerizing simulation experience that City Bus Driver provides.
What are the best online games?