City Ambulance Simulator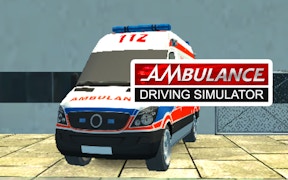 City Ambulance Simulator
Set your wheels in motion with the adrenaline-rushed City Ambulance Simulator, a standout title amongst the plethora of driving games. This game takes the enjoyment of car games to an entirely new level, mixing elements of thrilling speed and precision-focused parking games with the empathy-evoking role of ambulance drivers in rescue situations.
The key allure in City Ambulance Simulator is its life-saving mission. You are no ordinary driver; you are a beacon of hope for injured city dwellers. This unique aspect sets it apart from other conventional simulator games, offering an exciting spin on typical racing games.
In this gripping game, you do not merely participate in high-speed chases, but you navigate through city streets with a sense of urgency and responsibility. The game's uniqueness lies in this blend of fast-paced gaming and a deep-rooted sense of duty towards the virtual citizens.
Your objective goes beyond crossing the finish line first; every decision you make on the road could be life-saving for someone on the brink due to some unfortunate incident, thereby adding layers of depth not commonly found in most mainstream car or driving games.
The intensity that comes with each rescue is palpable, making City Ambulance Simulator as emotionally engaging as it is exhilarating. The dynamic challenges will keep your heart racing and hands glued to controls, making it an unputdownable journey for those who crave more than just speed from their choice of gaming.
In conclusion, City Ambulance Simulator thrives where others falter; it's a soaring contribution to the world of driving cum simulator games that deftly combines speedy racing, precise parking skills and a heart-tugging element that resonates deeply with gamers all over.
What are the best online games?