Circuit Car Racing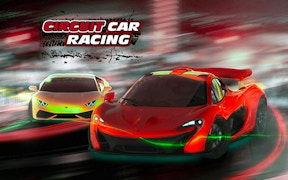 Circuit Car Racing
Welcome to the exhilarating world of Circuit Car Racing, a thrilling blend of speed, strategy, and skill, that will make any fan of car games, particularly those who also love drifting games and driving games, feel their pulse racing in no time.
In the heart-pounding experience that is Circuit Car Racing, put your driving skills to the ultimate test as you contend with challenging circuits and relentless opponents. This isn't just about pressing the gas and going full throttle - it demands strategic thinking, precision control, and a fearless resolve to claim first place in every race.
The game is impressively designed with superb graphics, offering highly detailed car models and immersive race tracks. The sound design is equally noteworthy - the roar of engines and the screech of tires against asphalt will make you feel like you're right in the midst of an adrenaline-pumping real-life race.
What truly sets this game apart from other car games in the market though, is its masterful take on drifting. It's not just an added gimmick; rather it's an integral part of your racing strategy. Get ready for pulse-quickening moments skimming past rivals at breakneck speed while executing perfect drifts around tight corners.
Whether you're a casual gamer looking for a fun way to pass time or a die-hard fan of driving games, Circuit Car Racing offers an engaging experience that would keep you glued to your seat for hours on end.
To sum up, Circuit Car Racing isn't just another game – it's a testament to the sheer thrill of racing. So rev up your engines, grip that wheel tight and get ready to conquer every circuit in this unmissable addition to your collection of awesome car games.
What are the best online games?