Chuck Chicken: The Magic Egg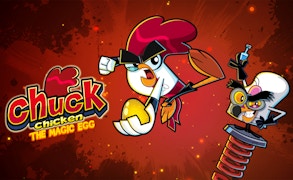 Chuck Chicken: The Magic Egg
Embark on a feather-filled journey with Chuck Chicken: The Magic Egg, an outstanding addition to the world of animal games and a thrilling venture into the realm of ball games. Aimed squarely at luring Games for Kids lovers, this game is set to engage your minds whilst providing a healthy dose of fun and excitement.
A unique blend of puzzle and platformer game, Chuck Chicken takes inspiration from the globally adored kids' animation brand, boasting a staggering view-count that surpasses 2 billion. Control the titular character on a mission to defeat his notorious adversaries – Dee, Don, Dex, Dr Mingo, and more. Channel your brainpower into mastering each level, truly shining a light on the game's potential as an engaging addition to the brain games genre.
The gameplay is as exciting as it gets. Launch your magic egg, and experience delight as it rebounds from one wall to another, outsmarting opponents in its path. Each magic egg reveals Chuck's superhero alter ego – a delightful twist that adds more depth to this game. Engrossing visuals and intuitive controls further enhance the gaming experience.
Chuck Chicken: The Magic Egg succeeds in infusing classic arcade gameplay with elemental strategy. It fosters cognitive development via problem-solving elements while maintaining an appealing lighthearted setting – making it an ideal brain game for kids. Hone your aim, strategize your moves and unravel the super-powered world of Chuck Chicken in this incredible arcade adventure.
In conclusion, if you're on the hunt for entertaining animal games or challenging ball games that also tweak your grey matter, then Chuck Chicken: The Magic Egg should top your list. Replete with action-packed gameplay and charming characters, this game ensures endless hours of fun for kids while simultaneously improving their strategic skills.
What are the best online games?