Christmas Trains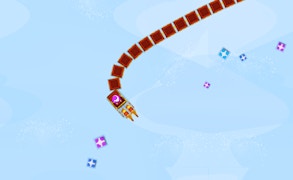 Christmas Trains
Deck the halls and warm up your gaming fingers, it's time to dive into the merry world of Christmas Trains, an enchanting kids multiplayer game perfect for the holiday season! This game seamlessly brings together the festive themes of Christmas games and the addicting challenge of classic snake games, offering hours of family-friendly fun.
Christmas Trains will Christmaholize your senses with its vibrantly coloured landscapes, sparkling lights, and a jolly soundtrack that keeps the yuletide spirit glowing. But don't let the sugary-sweet aesthetics fool you. At its heart, Christmas Trains is a strategic and competitive multiplayer game where your objective is to outshine other players in gift-collecting and delivery.
In a delightful twist on traditional snake games, you steer your train, beautifully adorned with twinkling Christmas lights, around a quaint town dotted with gingerbread houses. As you chug along, you pick up presents littered across the map. Each gift you collect makes your train longer, making it harder to navigate tight turns but adding to the enthralling challenge!
Santa himself would be impressed by how this kids multiplayer game promotes teamwork skills. You must strategize and work together with friends or other players worldwide to unlock higher levels and gain superior scores. It's all about delivering gifts to marked houses before others do, brilliantly fostering healthy competition in younger gamers.
In summary, Christmas Trains brims with childlike wonderment and festive fun while offering an educational edge. It's an enticing blend of snake games, classic kids' gaming elements, and holiday magic that'll keep little gamers hooked not just during Christmas but all year round!
What are the best online games?