Chop Slices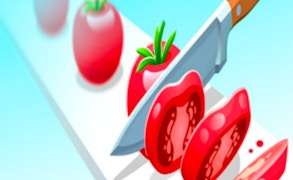 Chop Slices
Welcome to the world of hyper-casual games, where addiction meets adrenaline, and your finger-clicking speed is your stepping stone to victory. Get ready to immerse yourself in an engaging clicker game, aptly named 'Chop Slices'. As if crafted to satiate the insatiable appetites of not just food lovers, but every gamer who is a fan of fun-filled and exciting gameplay.
Chop Slices cloaks you in the apron of a super-skilled chef, navigating through a whirlwind of juicy fruits and crisp vegetables, all waiting to be effortlessly sliced by your super-sharp blade with just a click! The joy of cutting through various fruits and vegetables into perfect slices is inexplicably satisfying. The rush that you experience with every click on the razor-sharp blade, as you watch waves after waves of fruits getting perfectly sliced - is simply second to none.
This game masterfully combines the simplicity of hyper-casual games with an element of sheer fun and desire for perfection. Every slice feels like a step closer to culinary mastery! The fantasy of embarking on a chef's journey, chopping everything around you with unparalleled skills, transports you into a unique, virtual culinary world.
Addictive by nature, the game lures you into playing more, slicing more. You'd almost wish there were more fruits in this world for you to practice your slicing feats on! That's the power of addictive games. They mesmerize you with their simplicity and engage you with their complexity!
Chop Slices, undoubtedly is one of those arcade games that make you lose track of time with its addictive gameplay mechanics and simplistic yet engaging premise. So gear up gamers, grab your virtual blade, start chopping those reels of fruits and veggies and embark on an endless journey towards becoming the ultimate virtual chef.
What are the best online games?