Chip Family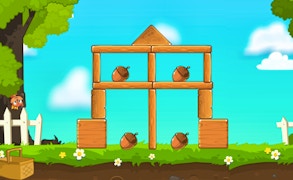 Chip Family
When it comes to animal games and games for kids, Chip Family remarkably hits the sweet spot, offering an entertaining blend of fun characters and engaging puzzles. The child-friendly design frames a puzzle experience that is not only suitable for youngsters but is also an intriguing challenge.
In the heart of a beautifully animated forest live the adorable chipmunks: Bob, Marge, Steven, and Alice. They are charming character leads who instantly win your heart with their playful antics and cute squeaking sounds. The impending winter season has tasked them with a mission – gather as many acorns as they can. This simple yet effective narrative sets the stage for 50 levels of delightful gaming.
The mechanics of Chip Family are wrapped around collecting acorns across fifty different and increasingly difficult levels. This setup thrives on problem-solving skills making it one of the best kids' puzzle games out there. Each level presents new puzzles to solve and brings you one step closer to ensuring the chipmunk family's survival through winter.
With all its challenges, Chip Family embeds learning in its play, making it much more than just an 'animal game'. The game serves up lessons on strategy and planning ahead in a format that's digestible for young minds. It teaches perseverance and problem-solving without feeling like another school assignment.
In conclusion, Chip Family is a standout among its peers in the animal games category and offers delightful hours of gaming for kids. A blend of fun characters, thoughtful puzzles, and vibrant art style makes this game a must-play for children looking forward to honing their problem-solving skills.
What are the best online games?
Tags