Chinese Water Dragon Jigsaw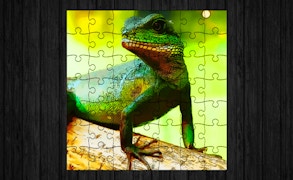 Chinese Water Dragon Jigsaw
Dive into the mesmerizing world of the Chinese Water Dragon Jigsaw, an online game that is as thrilling as it is engaging. This tantalizing mix of brain games, animal games, and dragon games is bound to enthral you with its enchanting imagery and ingenious gameplay.
The game, set in the captivating genre of jigsaw puzzle, offers a delightful feast for puzzle enthusiasts. Serving you three different modes, each with 6 stunning imagery, the game turns up the intrigue at every step. The alluring charm of jigsaw puzzles coupled with the appeal of dragon-themed imagery makes this game a must-play for every puzzle aficionado.
The gameplay in Chinese Water Dragon Jigsaw is as fluid as water itself, inviting players to dive into a sea of intellectual challenge. You are to perform a ballet of drag and drop, piecing together fragments while crafting an exquisite dragon image. As your jigsaw journey unfolds, you'll find yourself tangled in an intricate dance between your strategic instincts and cognitive capacities.
Chinese Water Dragon Jigsaw does not just offer fun but also an opportunity to sharpen your mental mettle. Its captivating graphics combined with brain-teasing puzzles imbue layers of depth that demand both your intellect and imagination.
A triumph in the world of puzzle games, Chinese Water Dragon Jigsaw is more than just an online game – it's a riveting escapade through a realm where myth meets mind challenge. It's perfect for those seeking mental stimulation wrapped in radiant dragon lore. Throw yourself into this cerebral vortex - engage, enjoy, and most importantly - have fun!
What are the best online games?