Child Skate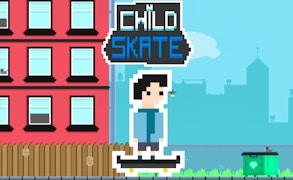 Child Skate
Description
In Child Skate, you'll transform into an exceptional skateboarder who must navigate through numerous challenging stages to collect coins. That's not all - you must do this while avoiding treacherous prickles and the threat of turning into Mommy Long and Huggy once night falls. Adrenaline-pumping adventure and skillful maneuvers are the key to mastering this game.
How to play
To play, simply use the arrow keys or the A, S, D, and W keys to control directional movement. You need to collect coins while successfully dodging sharp prickles that can eliminate you from the game. Additionally, stay vigilant at night as transformation to Mommy Long and Huggy lurks.
Tips and Tricks
The game requires a blend of dexterity, strategy, and tactical timing. Always keep an eye on the road for prickles that may cross your path. Adjust your pacing according to the time of day; being slower at night can save you from unnecessary transformation.
Features
Variety of stages: Game includes 25 unique sections each with its own set of challenges.
Night mode: The character transform into a different character adding another level of complexity.
Coin collection: Collect coins throughout your journey for extra points.
Prickle avoidance: Dodge sharp obstacles for survival within the game environment.
What are the best online games?