Chess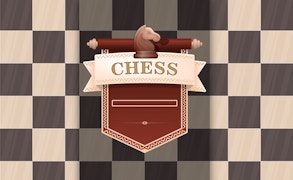 Chess
Regarding board games, Chess is one of the oldest and most well-known to players and non-players alike. It's credited for being a highly complex game that caters to strategic thinking and prompts people to come up with no ways to overcome difficult situations. On the surface, the game is about two armies of neatly arranged pieces clashing over a board with a grid pattern. You can learn quite a bit about it from watching a few games, but it will take a lot of hard work and learning about theory to become a master.
About Chess
Most of us have come into contact with Chess at some point or another with its impact depending on the individual. It's a game that has done a lot for the development of game theory and continues to be valuable in terms of teaching particular kinds of thinking. It's frequently seen as a serious game that is often played in silence due to the amount of thinking placed into each move. It's about seeing the big picture and thinking several moves ahead, in a way helping us plan for the future. It can also be seen as a puzzle where you have pieces that can be molded into whatever shape you want.
How to Play
Chess is a 2D board game about two sets of pieces clashing with each other that is played with the mouse. To move pieces, you click on the piece you want to move with the left mouse button. This will highlight spaces on the board that indicate the piece's possible moves. Click on the spot you want and the piece will move to that spot. The goal is to capture the opponent's King (indicated by a rounded crown) which means surrounding it with pieces that prevent it from moving in any direction.
Each piece has a different movement pattern that you'll need to utilize in order to win. The small rounded pieces are pawns that can only move forward one space (or two for their first move) and attack by moving one space diagonally forward to the left or right. Rooks look like castles and can move endlessly forward or backward in straight lines on the grid. Knights marked by horses can move in an "L" shape and are able to move over other pieces. Bishops with pointed tops are like Rooks, but their movement is diagonal. The Queen embodies the properties of all the other pieces (save for the Knight's jumping) making it the most powerful and mobile. The King can also move in all directions, but only one space at a time.
If the King is at risk of being attacked by another piece, this puts it into Check. This forces the player to make a move that puts the King in safety. When there are no possible moves, this is Checkmate and the game is over.

Tips and Tricks
Chess is a deceptively intricate game that requires a lot of thought and observation in order to fully understand and play accurately. You can benefit a lot from practicing and watching how the opponent moves to learn standard behaviors and strategies.

Game Details
Developer: RedFoc
Platforms: Web Browser (PC and mobile), iOS, and Android
Languages: English

Gameplay Footage
FAQs
Is Chess good for the brain?
Since it appears to be a very skillful and thought-heavy game, Chess has been shown to improve cognitive ability through repeated playing which sharpens the mind.
Games similar to Chess
Looking at this game from a basic standpoint, it's easy to see how it fits into the 2 Player and Brain Games categories on GamePix. Other games there are Drunken Duel, Get On Top, 10x10, and Squad Tower.
What are the best online games?